Matt Herold
Dive Supervisor/Project Manager
---
How long have you been with UESI? On and off beginning in 1998, but I have been here full-time since 2008

What do you do at UESI?  I am a Commercial Diving Project Manager. I have proudly been a part of many different types of projects including numerous power plant maintenance jobs, deep diving jobs for the Salt River Project in Arizona, and the rehab of Chassahowitzka Headspring area which is a valuable cultural and historic resource.

Tell us a little about your background:   I grew up in rural Connecticut, attended the Diver's Academy of the Eastern Seaboard in Camden, NJ in 1995. I have lived in Vermont, New Jersey, Tennessee, St. Croix (US Virgin Islands), and Florida. In addition to commercial diving, I have worked as a hyperbaric technician at a wound care facility and worked with my father helping to build his house in St. Croix and remodeling houses. I came to work at UESI as a diver and have worked in many capacities since including Operations Management and Project Management and estimating.


Why did you choose the career path you followed? My brother gave me scuba lessons for a high school graduation gift. I loved being underwater and decided to attend dive school for what was planned on being a 5 year "adventure," but here I am 26 years later.


What has been your greatest achievement or your proudest moment while working at UESI? Did you have a project with challenges that you succeeded at?    Every single dive job has its own set of challenges, but the one that stands out is the Unit 4 Intake Inspection at Horse Mesa Dam in Arizona. The dam is in a very remote location, dive depths were planned at 130ft, and because the job was to investigate a major structural failure the unknown conditions were a big concern for diver safety, planning and logistics played a huge part of this job. UESI shipped a deep diving package, a barge pushing motor, a boat, and everything we would need from Florida to Arizona, assembled the barge loaded the gear on board and pushed it 15 miles through the canyons to the dam. After getting on site, the first thing we did was send an ROV equipped with sonar and video down to assess the safety of the site for divers. Once it was determined to be safe, the divers went down to rig the trash rack sections to a crane for removal to allow access inside of the structure. After the racks were removed and area surveyed by ROV, divers entered the intake to perform a thorough inspection, determining that a 25'x10' wall had sheared from its mounting pins, broke apart and went through the penstock. All dives were completed safely, on site engineers got all the information they needed to write their report and make recommendations.


What do you like or appreciate most about working at UESI? The variety of projects ensures that work is never boring. We have a wonderful group of talented and motivated people from a wide variety of backgrounds.

What does your workspace look like (include a photo!):



Can you describe a project that you worked on that embodies the spirit of "Many Talents, One Firm"?    The Emergent Intake Cooling Water Pipe Replacement project was a very interesting job that had a bit of everyone's unique background shine through – the job started out as a simple pipe inspection when the diver noticed that soil was falling into the pipes through corrosion holes. As it turned out, there was an enormous void above the pipes with a concrete slab that was suspended above the void. The concrete first needed to be removed, and then the 2 pipes replaced one at a time. Then the area backfilled and capped with concrete. Seeing people from different backgrounds from salvage to marine construction, to earthwork to concrete work, to welders and painters come together and bring ideas and experience to the table to bring a very complex job to a safe and successful completion was amazing!

Tell us about your life outside of work. Family, hobbies, volunteer activities? (Include photos! If submitting a photo of your family, include the names for the caption) When I'm not working, I enjoy spending time with my wife Lacy and three boys Leif 23 (lives in South Carolina) Denali 15, and Rayne 13, taking on projects including a 1968 VW Beetle, rebuilding golf carts, and wood working crafts, playing badminton in the yard, watching them sail, and fish. – anything that I can do together with my family.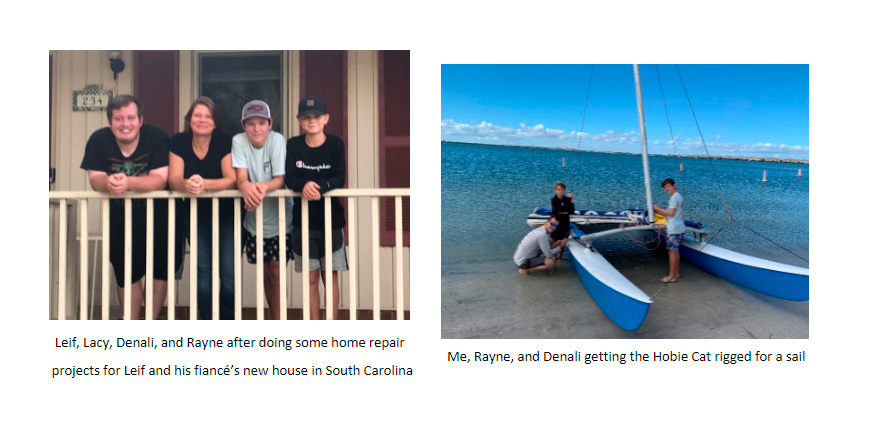 What is something on your bucket list? I would like to take my family on a cross country vacation, making stops at the Grand Canyon and Denali National Park– I'm hopeful to get to do this in 2022.