Marty Faulk, Project Director-Inspections

How long have you been with UESI? 8 years.

What do you do at UESI? Project Management of Commercial diving and Nuclear diving operations. ROV inspections, Bridge Inspections, both superstructure, substructure, and Coating evaluation / assessments / repairs.

Tell us a little about your background: Served 10 years in the USMC, DIT Graduate, Alabama DOT, Florida DOT, FHWA NBIS CBI Team Leader, FL CBI, ADCI Supervisor, NACE II and ANSI III Coatings Inspector. May of 2020 I was promoted to Project Director – Inspections. and most recently, I have been selected to be the UESI Jacksonville Division Director.


Why did you choose the career path you followed? I have always enjoyed the challenge of working in and around the water environment.

What has been your greatest achievement or your proudest moment while working at UESI? I have been selected to be the UESI Jacksonville Division Director.

What do you like or appreciate most about working at UESI? I appreciate the constant, dynamic, ever-changing variety of job opportunities that our amazing Team provides us the opportunity to be successful at.


---
What does your workspace look like?
Who or what inspires you? My Mother inspires and motivates me. She gave birth to me at the age of 16, she is a force to be reckoned with. I am so proud of her.

Can you describe a project that you worked on that embodies the spirit of "Many Talents, One Firm"? The UESI / GPI collaboration on Ohio DOT and New York DOT Bridge / Canal / Culvert inspections. The Partnership of the GPI / UESI group, the level of professionalism, experience in structural inspections, and willingness to not only try something new, but to complete it safely, ahead of schedule and client satisfaction / retention.

If you could switch jobs for one day with anyone in UESI, whose job would you do? Ken or Steve G.

Where do you see yourself in 10 years? Looking back and evaluating the tremendous employee satisfaction, low attrition rate, client relationship growth and the financial market share UESI has had in the Jacksonville Division.

Tell us about your life outside of work. Family, hobbies, volunteer activities? I don't call it hobbies, I call it a lifestyle: Riding my Boss Hoss Trike, Skydiving, 4-wheeling, Waterskiing, Wakeboarding, Traveling (Costa Rica is my favorite), and anything to do with food.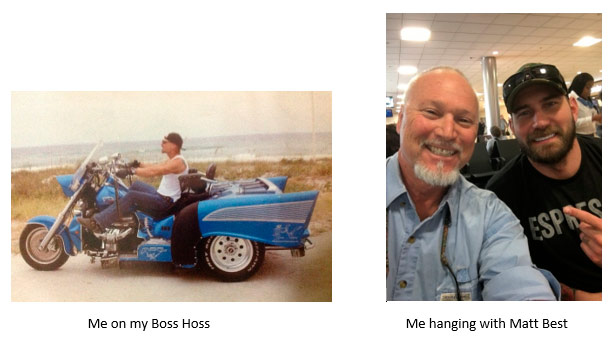 ---
Who would play you in the movie about your life? Clint Eastwood or Matt Best.

What is something on your bucket list? B.A.S.E. jump from Angel Falls in Venezuela.

Tell us something that many people might not know about you: During my travels I always look for the oldest architectural structure in that city and explore it.

You would never catch me wearing: Anything with Auburn University logos. ROLL TIDE ROLL!!!!!!


Dogs vs Cats: No doubt, no question……. Cats! Totally independent, resourceful, low-maintenance, self-supportive and most important, they are very curious. I see why they need 9 lives.