Congratulations to Jaim Steele!
---
Through his hard work and dedication to his education, along with a recommendation from UESI, Jaim has been nominated and will receive the ADCI (Association of Diving Contractors International) Scholarship.

"The ADCI Scholarship is available to students who reside within the communities of Association of Diving Contractors International member companies. Member companies must have been a member in good standing for a minimum of one year preceding the year in which you apply. You must be nominated by an ADCI member company to be eligible for this award."

Jaim is originally from Miami and currently attends the University of Florida as a freshman and John V. Lombardi Scholar. He has been a certified diver since he was 12 years old, is involved in many community service projects in Florida, and has even founded an organization to raise money for a few of his favorite charities. Here is the link: www.yespoonopoo.com.
UESI is proud of you!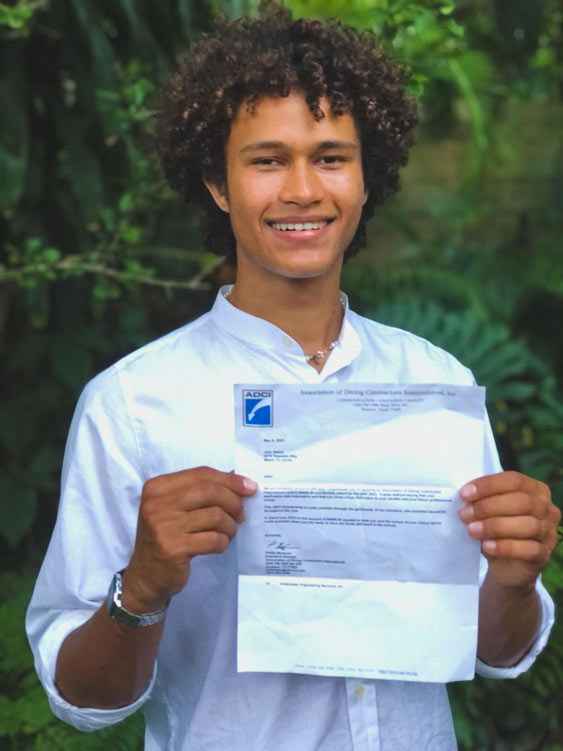 Bernie Ortiz
Vice President/Office Manager
---
How long have you been with UESI?   17 years
What do you do at UESI?  I am the Office Manager at UESI responsible for managing our administrative staff, handling our month-end closing (ENB calculations), administrative tasks for all of our nuclear projects as well as Walt Disney World projects.  I provide support to various project managers, divers and our executive staff. 
Tell us a little about your background:    
Why did you choose the career path you followed?    I have a BS in Elementary Education.   Prior to UESI, I worked for Just Born Candy (Peeps®, Hot Tamales®, etc.) for 10 years as a Customer Service Supervisor and an Assistant Distribution Manager.
Prolonging the life of existing power plants: General Power Plant Diving
General power plant diving is a crucial component of prolonging the life of existing power plants. Power plants need the necessary maintenance and attention throughout the years to keep running properly. This includes underwater inspection, adjustment, repair and replacement that only general power plant divers can do.

These divers are trained to safely inspect these power plants making sure everything is running smoothly. If the inspection reveals malfunctioning components or broken equipment, these highly trained divers will make the necessary repairs to all systems and components. It's important to schedule this maintenance ahead of time and keep track of how often these inspections should take place.

The benefits of having regularly scheduled maintenance include the decrease of equipment downtime and minimized investments in inventory. Most importantly, regularly scheduled maintenance helps to ensure the safe and effective operation of power plants.

At UESI we have reputable, highly trained and qualified general power plant divers ready to help keep power plants running all year round with no interruptions. Visit our website today to learn more about our services at https://uesi.com.
UESI's very own Ken Griffin visits Chester A. Moore Elementary for their Teachers Appreciation Breakfast, where he presented Principal Thelma Jackson with a Challenge Coin for all of her hard work. Ken also addressed the teachers with words of encouragement along with District Superintendent, E. Wayne Gent.