Underwater Engineering Services, Inc.
Serving Our Customers for over 39 years
OUR COMMITMENT TO SAFETY, CUSTOMER SERVICE, QUALITY AND INNOVATION
UESI is a leading commercial diving, civil marine contractor and specialty engineering company operating throughout the world. We offer a wide range of services and turnkey solutions as well as design and specialty services uniquely applicable to the needs of customers ranging from heavy marine construction companies to nuclear power plant operators. UESI's core values of Safety, Customer Service, Quality, and Innovation form the foundation on which we perform work and conduct business.
MANY TALENTS, ONE FIRM

UESI employs experienced commercial divers, construction managers, subject matter experts, and professional engineers. All are dedicated professionals selected to ensure we maintain our core values. Our goal as a company is to facilitate a partnership with our customers that forges a mutually beneficial long-term relationship.
---

INSPECTION AND
ASSET MANAGEMENT

ENGINEERING
AND CONSULTING

MAINTENANCE
AND CONSTRUCTION

TECHNICAL SERVICES
AND PROJECT SUPPORT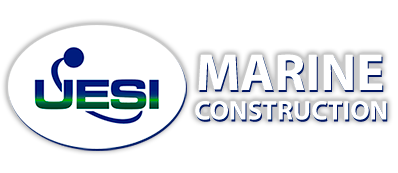 ---
Providing Innovative And Effective Marine Construction Solutions Since 1984 Service

UESI's specialty services offer cost-effective and environmentally friendly solutions to complex projects. Our long history of on-time completions and quality work coupled with our steadfast commitments to safety and customer service are hallmarks of UESI's business approach.
Quality and Innovation

UESI provides multi-disciplined consulting and engineering services allowing us to address a wide range of challenges facing the hydropower industry. Our team of professional divers, inspectors, marine construction specialists and engineers find innovative ways to build quality into every project.
Underwater Engineering Services Inc.,
UESI stands at the forefront of the underwater construction industry, offering a comprehensive suite of cutting-edge services catering to a diverse clientele. With a stellar reputation built on a foundation of expertise, innovation, and reliability, UESI has emerged as a leading authority in commercial diving, marine construction and specialized underwater consulting and project management.
Unraveling a Multifaceted Portfolio
At UESI, our extensive portfolio of services encompasses a myriad of solutions tailored to the unique needs of various industries. We take pride in our team of seasoned professionals who possess an unwavering commitment to quality, safety and excellence. Some of the core services offered by UESI include:
1. Commercial Diving: Our certified commercial divers are equipped with state-of-the-art technology to carry out intricate underwater tasks, from inspections to maintenance and repair, with precision and efficiency.
2. Marine Construction: UESI specializes in executing marine construction projects, ensuring that each endeavor is executed with utmost proficiency while adhering to environmental standards.
3. Commercial Diving Consulting and Project Management: Our team of experts offers comprehensive consulting services and project management solutions, delivering tailored strategies that streamline operations and optimize project outcomes.
4.  Remote Inspection: UESI leverages the latest in remote inspection technology, enabling us to conduct thorough assessments in hard-to-reach areas with unparalleled accuracy.
5.  Nuclear Coating Consulting and Applications: We provide specialized consulting for nuclear coating applications, ensuring stringent safety standards and compliance with industry regulations.
6. Safety-Related Nuclear Coating Consulting Examinations and Applications: UESI's commitment to safety extends to nuclear coating consulting examinations, where we employ meticulous scrutiny to guarantee security in nuclear facilities.
7. Nuclear In-Service Inspection: Our advanced nuclear in-service inspection services assist in ensuring nuclear facilities' structural integrity with unwavering precision.
8. Protective Coating and Corrosion Control: UESI's protective coating and corrosion control solutions safeguard critical assets, prolonging their lifespan and reducing maintenance costs.
9. Nuclear Diving Radiological Services: Our highly trained divers possess expertise in nuclear diving radiological operations, ensuring safety and adherence to stringent protocols.
10. General Power Plant Diving: UESI's team of professionals excels in supporting power plant operations with specialized diving services.
11. Hyperbaric Welding: With cutting-edge hyperbaric welding capabilities, we execute underwater welding projects with unmatched proficiency.
12. Nuclear Decommissioning: UESI plays a crucial role in nuclear decommissioning projects, providing safe and efficient services to decommissioned facilities.
13. Industrial Coating Inspection and Remediation: Our industrial coating inspection and remediation services enhance asset protection and longevity.
14. Crane and Trucking Operations: UESI offers seamless crane and trucking operations to support complex underwater projects.
15. Equipment and Sectional Barge Rental: Our diverse fleet of equipment and sectional barges are available for rent, meeting the requirements of various marine operations.
16. Artificial Reef Restoration and Construction: UESI contributes to environmental conservation through artificial reef restoration and construction initiatives.
17. Theme Parks and Aquariums: We partner with theme parks and aquariums, offering specialized services to ensure the well-being of aquatic attractions.
18. Engineering Inspection and Consulting: UESI's engineering inspection and consulting services provide critical insights to enhance structural integrity and operational efficiency.
Excellence Beyond Boundaries
Whether we are providing service to nuclear facilities, repairing marine infrastructure, or working on new marine construction projects, UESI takes pride in delivering a reliable, professional and excellent level of service. We foster lasting partnerships with our clients, working collaboratively to tackle complex challenges and turn ambitious visions into reality.
At UESI, our commitment to safety, innovation and customer satisfaction is unwavering. With a legacy of successful marine construction projects and a team of seasoned professionals, we continue to be the preferred choice for all underwater engineering and construction needs Florida, Georgia, the Carolinas and Northeastern USA.
We invite you to contact our team today and let us be your trusted partner in the depths of your underwater engineering and construction project.