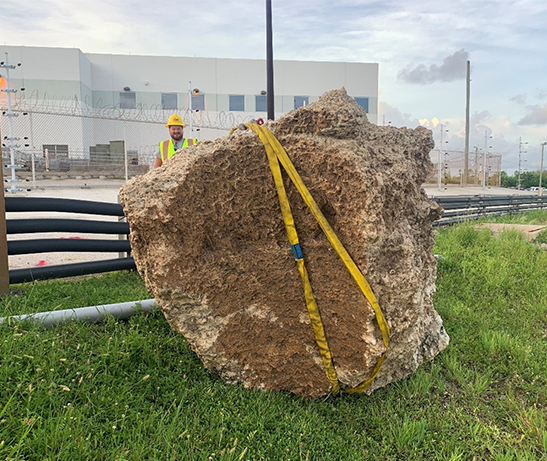 Cone & Graham Intrusion Detection
---
Project Dates: 04/06/2021 – 06/01/2022
UESI Project Director:   Randal Bazemore
UESI Project Manager:   Jeremiah Duncan
UESI Project Number:  COM2021258
---
From April 2021 to June 2022, divers from UESI assisted in building the foundation for the new Security Anti-Intrusion Fence. This was a unique project to the UESI skillset in being that the water temperatures ranged between 95-112 degrees. The location of the jobsite was approximately 200 feet from the discharge of a power plant, resulting in 2.5 knot currents with 0 feet of visibility.


  The crew was challenged with various tasks including in-depth surveying of bottom contour, using pneumatic tools to shape bottom to desired grade, precision burning of 14-inch "H" piles in preparation of setting an 80-ton concrete foundation slab. After the slab was placed and an extensive shimming process was complete, concrete was pumped through the slab to lock it into place on bottom. After the bottom slab was in position, we placed a 50-ton, prefabricated slope piece on either end of the canal. The slope pieces were locked in by use of turnbuckles, come-alongs, and a series of studs and hardware. Once the slope was in place, sheet pile were driven and sealed using rip-rap bags and hydraulic cement. Then concrete was pumped in two-separate 11-foot lifts. The final step of the project was to place two 30-ton abutment pieces on either side of canal. The UESI crew did an exemplary job of forming up very irregular surfaces in place in a very limited amount of time to prepare for the final lifts of concrete. Upon completing the two final lifts with zero leaks or blowouts from the field fit forms, the UESI crew, upon direction from the client, stripped all forms, removed all downlines and ladders from underwater, demobilized the worksite, and travelled home.

  When the second phase of this project began, the UESI crew re-mobilized and performed approximately 3 hours of diving in 110 degrees to set template on all sets of bolts and check to make sure all hardware fit on every stud by hand.

  In short, every crew member that was a part of this job endured conditions that the U.S. Navy, USCG, and ADC does not deal with very often. I am truly proud of the personnel that dove every day and dealt with the lasting side effects (night sweats, digestion issues, leg cramps, and restless leg syndrome) of hot water diving. Not to mention the dangers of high current and zero visibility. The actual aspects of heavy underwater construction for this project might have tested more seasoned divers in more favorable conditions. We truly have a talented group of young divers at our company that I am more than willing to take on any of my jobs. In my opinion, we should continue to invest whatever we can into their growth and experience.